Some come to Arizona in January to get away from the cold but not our troop!  For Troop 648, January is the signal for us to get out of the relative warmth of Phoenix and to head to the colder climates of Arizona.  9 brave scouts, 4 adult leaders and a scout in training headed up to Mormon Lake Friday evening.  The temperatures were near freezing as we reached our site, which led our scouts to unpack and setup quickly.  Getting to sleep for some was quick, others not so much.  Hindering sleep was one local resident, Sir Barksalot, who's ability to bark for hours was quite noteworthy. 
After a breakfast of eggs and bacon on Saturday morning, the group headed up to Fort Tuthill in Flagstaff.  A few scouts went to Flagstaff Extreme while the rest played in the patches of snow nearby.  After some lunch, all the scouts went to play in the snow.  Since we were at a fort, the scouts seemed to be in WWII mode, building pillboxes and snowballs.  Some of the snowballs were cannonball sized.  Once a truce was established, a tall skinny snowman was built from the big snowballs.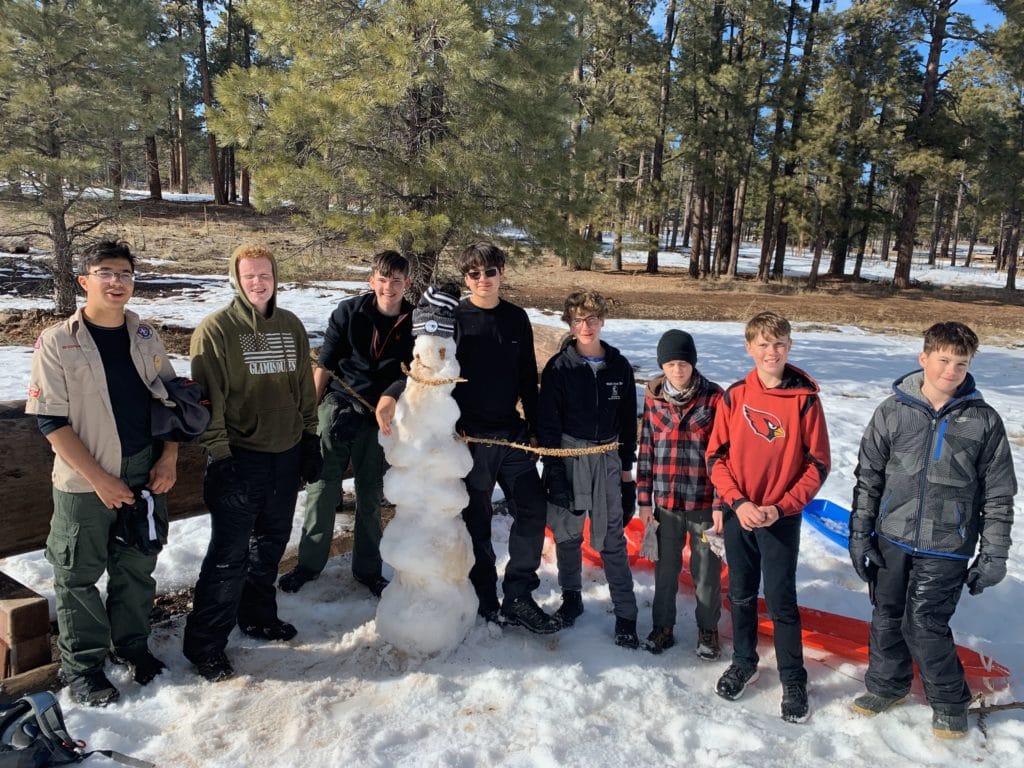 A big todo was made out of finding one scout's hat.  He's cries of "Hat! Hat!" were in vain as he'd left it right where we had lunch.
The troop made an early dinner of burgers with mac & cheese.  A decent sized fire was made and some of the troops had hot chocolate.  A few of the scouts retired early and most weren't too far behind.  One adult leader was asked the time by a scout and when told it was 7:30, the questioning scout said, "It feels a lot later than that."
Our scout leader made good on his word of wanting to get an early leave on Sunday morning and had the scouts up quite early to pack up their gear. A quick pickup, thorns and roses and a prayer and we were on the road back to Phoenix. One scout said they could feel their feet again when we reached our gas stop.
Thanks to all the scouts that made this a great outing. Of note, we want to thank Drew for his attendance on his last official outing before he ages out. We look forward to him joining us in the future as an adult.