Eight scouts and two scouters from the troop headed out last Friday for a cooler climate, pine trees, camaraderie and a little cave spelunking. Â What we found was so much more. David Y took 'photo bombing' to a whole new level, Alex D found his inner Chef Ramsey and cooked up some incredible meals including a 'banana boat' and Reese had us all in stitches throughout the trip. Â Claustrophobia, smushaphobia…let's crawl into the tiniest space just to say we did!
We arrived late Friday night but, thanks to Mr. Cole's extra effort, we landed in a perfect campsite.  Next to the pine trees, with an open meadow and a $100 million dollar view.  1,000 acres all to ourselves…oh and an old 'ghost' tractor engine/generator about 1/2 mile away that apparently does not need fuel to run.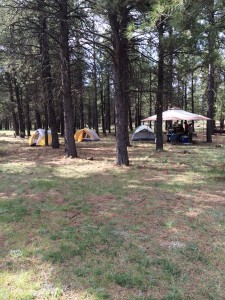 Campsite
After breakfast Saturday, it was across the meadow to Antelope Hill (elevation about 8300 feet) and a hill climb.  Straight up the hill, climb.  Straight up over 600 feet in elevation… hill climb.  While the adults took more time on the way up to 'enjoy the view,' the scouts bounded up in no time.  And what better place then the top of a hill to break out the Magic deck!  The first picture below is the view outside our 'room.'  The second picture below is the top of Antelope Hill.  In the left corner where the meadow meets the forest is our camp.  The haze was smoke from a nearby managed fire.  No one around for miles!
Looking at Antelope Hill
From the top of Antelope Hill
After lunch it was off to the Lava River Tube.  It's a rocky climb down into sub 45 degree temperature and a near mile hike to the end.  Turn off your flashlight and you can't see your hand in front of your face.    This lava tube cave was formed roughly 700,000 years ago by molten rock that erupted from a volcanic vent in nearby Hart Prairie. The top, sides and bottom of the flow cooled and solidified first, after which the insides of the lava river continued to flow emptying out the present cave.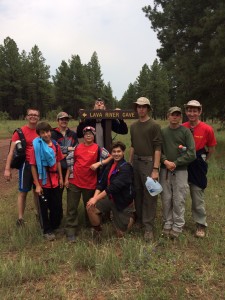 The Crew
Heading into the Cave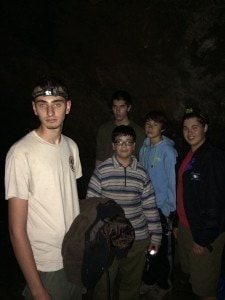 Kind of hard to time a 'smile' when you can't see your subjects!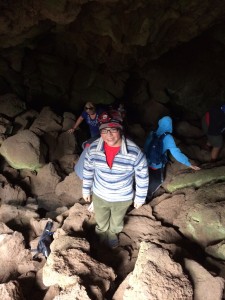 Emerging out of the Cave
A great campfire with lots of laughs, trivia (some 'considerably less interesting')Â and stories capped off a perfect day. Â Sunday brought us out of the forest and into the fire. Â I hope everyone was able to cool off and perhaps catch a few extra winks.
BTW – click on any picture for a larger view.
See you at the troop meeting!
Mr. McFetters